Tech Jobs For The Disabled
This is important that companies create opportunities for physically challenged workers and adapt roles. These jobs should be like that all the applicants of different abilities can apply. Physically challenged workers have limitations, but there are roles out there where those issues do not pose a problem. And sometimes completely irrelevant to the work involved.
The problem with creating a basic guide on the best jobs for physically challenged people is that there are different skill sets and requirements depending on the disability. One position in an office environment may be advertised as being ideal for physically challenged candidates. Also the nature of the work or the location of the office, but there is more to think about than that.
Could a blind or deaf person manage in that tech job? This guide will break down job types by looking at four key areas of physical disability – general physical disability, hearing impairments, vision disorders, and mobility issues.
Physical Disability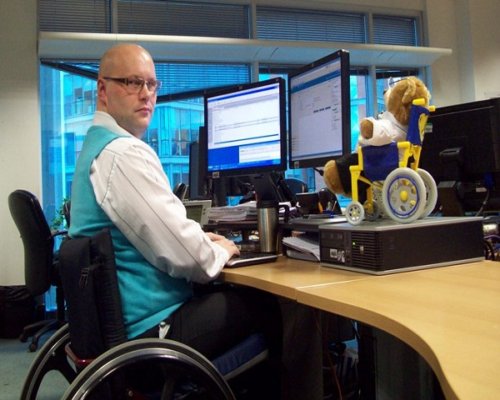 There are some jobs where physically challenged people from a range of backgrounds can fit in and adapt the scenario to their needs. The most obvious of these is any form of self-employment where the work hours, workload and location can be easily adapted and determined based on individual needs. The main areas of interest here are accountancy, sales, writing and teaching.
Accountancy firms can employ disabled accounts to work at the business but is also a worthwhile consideration for the self-employed. Sales roles can vary widely, and many stores have great policies about hiring disabled workers.
In the store, warehouse and telesales roles each have their perks, and they are entry-level positions required little training or specialist education. Writers that work freelance can put disabilities aside and choose topics, locations and hours that suit their needs.
Teaching can be tricky without the right qualifications, but posts at colleges and adult education centers can help. Physically challenged Teachers can also bring a new approach to the classroom.
Hard Of Hearing
Many of the jobs mentioned above are also ideal for people with hearing disabilities as long as the employer can meet any specialist requirements.  Deaf workers may also want to consider a change of career where their disability becomes almost irrelevant to the line of work.  If you can be able to prove that you can do a job just as well as a non-disable person, your disability is not an issue.
Some workers with hearing problems find that the best jobs are in industrial sectors and factories where they can help to make cars, machinery or other essential equipment. Here hearing loss is a risk and deafness something of an advantage. Deaf workers aren't distracted by the loud machinery noises and can get on with their role. Many roles will require additional training, but the right school will be able to help.
Vision Disorders
It can be difficult for visually impaired persons to get by in traditional work environments where their lack of sight could be a detriment. The good news is that many computer-based roles and tech jobs use screen readers to adapt.
One role that is ideal for people with vision disorders is customer service or sales within a call center.  The majority of the work is base on the telephone with a few face-to-face interactions, and no formal qualifications are required.
Again, some of the roles mentioned above can be adapted so that blind workers can apply and there is always the option of self-employment. Working from home provides that safe, adapted environment and greater control.
Mobility Issues
Wheelchair users can struggle with some of the more demanding, physical jobs within a company.  But many desk-based jobs should be manageable as long as the company provides the right adaptations. And the building is user-friendly.
There is also the option of telecommuting and working from home. As long as you have all the right technology at home. As long as a position is accessible and manageable, mobility issues should impair the work involves.
There is a belief that office and admin jobs are set to be the biggest rise by 2020. And both are ideal for wheelchair users and other disabled people.  Two key roles here are computer systems analyst and software developer.
These tech jobs are on the rise in some companies and are ideally suited for anyone with the right education and training. If you can create code and work on effective solutions, it shouldn't matter if you have mobility issues or not.