Wheelchair-Friendly Accessible Homes
Disabled friendly homes vary widely. Some physically challenged people are lucky enough to have a range of technological gadgets and apps in place to make the accessible homes easy to negotiate and run. Others can only make the most basic of alteration as they lose their mobility.
In the ideal world, it would be easy to find a wheelchair friendly home and make a host of changes. The problem is that this can cost lots of money. This guide to modifying a home for the physically challenged will look at the different reasons for changing a home. And the various adaptations that can be made to make homes more accessible and user-friendly.
Why Adapt Your Home To Make It Wheelchair-Friendly?
Disability can strike without warning, leaving many newly-disabled people looking for new accommodation. Or the disabled people have to modify their current home to Accessible Homes. Some people may simply be thinking ahead to old age.
There is nothing worse for older, retired couples to have to move to sheltered, specialist housing.  It 's hard for them to live in their home anymore. If this thing is considered in advance, we can make a home more user-friendly in the case of mobility issues or wheelchair use in old age.
The Entrances
The first thing that any homeowner or builder has to consider is the entrances. This means the front door and access point of the home, but also all of the other doorways in the house and the ease of movement between the rooms.
The front door needs to be easy to manage with a simple lock, a handle at the right level, plenty of room to move and a natural approach. If the door is raised up from the ground, there needs to be a non-slip ramp in place.
Walking through a doorway should be something that we barely think about. Able-bodied people don't want to squeeze through a narrow door frame, and wheelchair-bound people shouldn't have to think about their approach.
Every door in the home should be wide enough for people to get through if they are wheelchair bound. This means the door frames to at least 36'' wide. Some say that hallway doors can be 32'' but homeowners need plenty of turning space if they are taking a left into the kitchen.
The Kitchen
Speaking of the kitchen, there are lots of adaptations that can be made here to make life much easier for the physically challenged. Wheelchair users need the room in the middle of the kitchen to move around from the counter to the sink.
And the oven which means fancy breakfast bars and islands are out, and all surfaces need to be accessible. Builders should lower all the countertops, light switches, and sinks so that they are accessible and easy to operate.
Low-level storage areas with intelligent solutions can also help too. Wall-mounted cabinets are not suitable for wheelchair-bound homeowners if they are out of reach, but sliding racks and lazy susans at eye level can bring all food and equipment down to an accessible level.
Some designers also put the electrical sockets on the front of cabinets so that it is easy to plug in gadgets and appliances. Builders don't want their clients to have to stretch up and reach over the counter to the back wall.
The Bathroom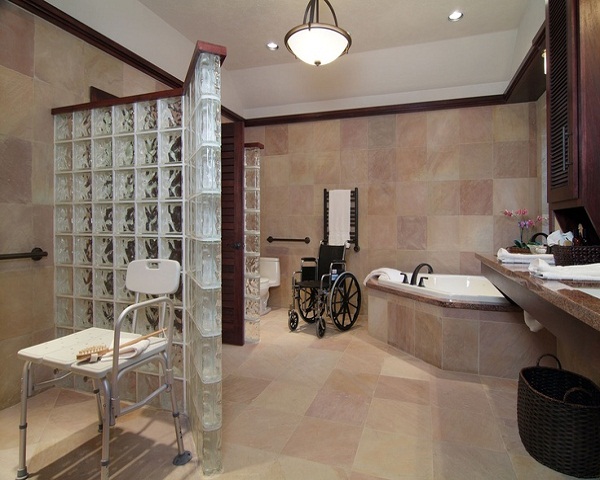 The bathroom is the room that needs the most attention and modifications for wheelchair users. Each essential element – the toilet, sink, bathtub, and shower – all need to be carefully consider with disable users in mind. The bath and shower area is the hardest one to get right because needs vary depending on the mobility of the user.
They can also rely on the budget and floor space available. It is best to offer a bath with a seat installed in it and some grab rails for stability when creating somewhere for homeowners to bathe. Roll-in showers sound like an excellent idea in theory, but they are problematic if you are remodeling and home rather than starting from scratch.
With so much attention placed on the shower and bath. Some designers may not think about all the different elements of the sink.This unit is going to use multiple times a day and needs to be accessible and easy to use. The first thing to do is that to make sure that the sink is at the right height for the users. And they can reach in to wash their hands and use the faucets.
These faucets also have to be consider carefully because some disable people could struggle with some designs. Lever faucets are an easy way of turning the water on and off and getting the right temperature. The other problem with the sink is the way that the plumbing beneath the basin is cover. A large pedestal could inhibit a wheelchair user's access, but exposed pipes could also be a health risk.
Finally, with the toilet, builders need to ensure that it too is easy to operate and sit on. This time, the toilet and the seat could be raised, so they don't have to lower themselves down too much. Hand rails are also useful for creating support. Also, the flush mechanism should be easy to reach from the seat or wheelchair and shouldn't require any real force.
Other Considerations To Make Around The House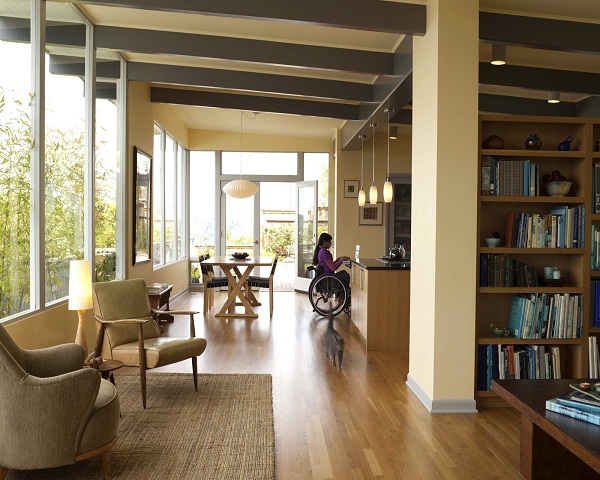 A wheelchair friendly home need to consider from all angles. Everything that is install in the house has to create with the knowledge that a physically challenge person will use it. Simple elements like the plumbing, electric wiring, and heating need to design so that they can be use with ease in any room of the home. Apps and smart adaptations can help, but not all homeowners can afford to put them in.
Backup solar generators are also a great option for providing a consistent source of power in areas prone to blackouts. This means that wheelchair users needing specialized equipment don't have to leave their home if they know a storm is approaching.
Every door, cabinet, and fixture need to be the right size and height. And applies to utility areas and walks in closets as much as kitchen cupboards. The height and handles on the windows also need to be consider. Do you use curtains, blinds or electronic shutters?
The best approach for homeowners and builders is to work through the plan of a home in beautiful detail. And discuss a particular issue related to the disability and understand the budget. Every room has its function, and every item has a purpose. Consider them all in a logical, realistic way and see how you can transform your home