Criteria For Creating Accessible Websites
We all want to be able to access a piece of information online without having to search aimlessly on a poorly organized website. And we all like some helpful pictures and captions with our news stories. It is vital to creating accessible websites to keep web users happy, but there is also the issue of physically challenged users.
There are four important criteria that a site must adhere to be deemed accessible for the physically challenged. It must be perceivable, operable, understandable and robust.
Somewhat ironically, these four terms have a vagueness to them that make them slightly difficult to understand. In this guide, we will look at conditions and what these terms mean and how to ensure that your website complies.
Perceivable content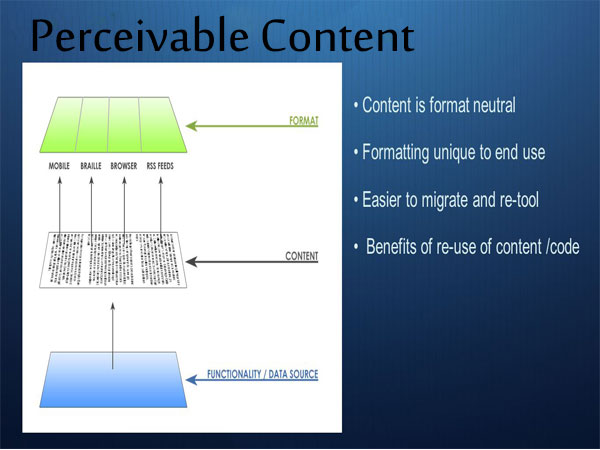 Perceivable content mean that the information that a web page presents to the user is easily accessible. This often means the use of visual and audio media to tell present information in different ways.
A blind visitor, for example, may require audio description. Screen readers and enlargers are also helpful tools here. Provide transcripts for videos, captions for photos and images to give context to text. This all needs to present in a clear, logical manner with appropriate headings and a suitable structure.
Operable websites
The operable sites that a user can operate and find all the information that they need without getting stuck halfway. All interactive elements that enhance a page need to be accessible to everyone. This all starts a very basic level with clear links between pages, and open home page and a site map.
Users can be able to locate and use their required page with ease. This is why it is also important to provide a search engine. When creating navigation tools, make sure they are just as accessible when using screen readers and other techs. It is also important to ensure that users can access everything via the keyboard in case users have problems using a mouse.
Another big issue for navigating and operating a website is the presence of inaccessible content and related errors. Are all the links, PDF's and media content working properly? Does your site have a reliable error recovery mechanism in case users make a mistake when submitting data? You should also check for pop-up windows that might take users away from the site and ruin the experience.
Understandable content
Your content needs to be easy to understand within this operable website once the users have perceived the information. There should be no ambiguity in the content if it has a clear purpose, especially if you are looking to help physically challenged people.
Reread written content to make sure that everyone easily understands it without too much terminology. If terminology is necessary, provide definitions. Also, think about the language used in the links and captions. They all have to be understandable in and out of context.
The creation of right content also relies on the presentation of the material. Font size is crucial. If it may be too small for some reader, make sure that they can enlarge the text without the action messing up the page.
You also need to think about the contrast between the text and background – especially if you are not using black and white – and the use of color across the page. How would the site look to a colorblind reader?
Robust websites
The last issue is the strength of the site. The site and the content must both support a range of technological extras that will enhance the experience for the disabled users. There are lots of tools mentioned above that can help to improve the perception of a site. One of the ways is that users navigate the page – such as screen readers – but will they work on your site?
Remember these four factors when creating an accessible website for the physically challenged.
There is a lot to think about when creating a website that is accessible to all users. Becuase it is about more than creating an easy-to-read article with clear links and helpful visual content.
The examples given above are just the start, which can make the process seem daunting. As long as you remember these four criteria – perceivable, operable, understandable, robust – and take a careful, considered approach to website creation, it will become easier.